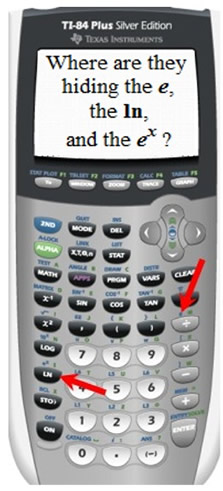 Start by finding the keys you will be using:
e (to the first power) can be found above the division key.

ln has its own key on the left side of the keypad.


ex is found above the ln key.

Remember: e is an irrational number, approximately 2.71828183, named after the 18th century Swiss mathematician, Leonhard Euler.

f (x) = ex, is called the natural exponential function.
f (x) = ln x, is called the natural logarithmic function.
These two functions are inverses of one another.

When composed, these two functions return the starting value,
thus creating the identity function, y = x.