1. Enter equations into "Y =" area. (Be sure the PLOTS at the top of window are turned off.) When the = sign is highlighted, the graph will be displayed.
Typing Options:
Y1 = -0.5x + 3
Y1 = -1/2x + 3
Y1 = (-1/2)x +3
The symbol to the far left of the equation indicates the style of graph you will see. For example, the -0 symbol will be an animated "bubble" with a trailing graph. To change these options, move to the far left and hit ENTER. With each hit, another choice will appear. If you go past an option, keep hitting ENTER and it will reappear.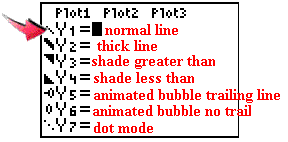 If the Plots at the top are highlighted, move to them and hit ENTER to deselect.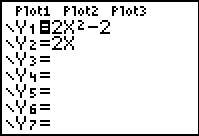 Since the equal sign in the second graph, y = 2x, is not highlighted, the line will not be graphed. To highlight the = sign, move to it and press ENTER.