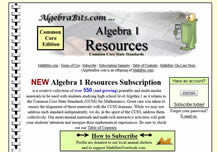 • AlgebraBits Resources

Worksheets, activities, labs, games - (hardcopy & interactive) - for teachers.
Free samples available.
Compatible with NY Next Gen. Standards, and others.
Math & the Movies Resources
Worksheets at the Algebra level:
•

Abbott & Costello: In the Navy

•

Harry Potter & Sorcerer's Stone

• Star Trek: The Trouble with
Tribbles (2 Versions)
•

Die Hard with a Vengeance

•

Castaway

• Contact and more!
Answers available for teachers and parents by request only.