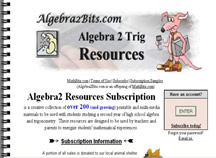 • Algebra2Bits Resources
Common Core Edition
Worksheets, activities, labs, games - (hardcopy & interactive) - for teachers.
Free samples.
Math & the Movies Resources
 Worksheets at Alg2/Trig level:
 
 • 

I Love Lucy

 
 • 

Star Wars Episode I

 
 • 

Star Trek: Tribbles

 
 • 

The Englishman Who Went Up a Hill and Came Down a Mountain

 
 • 

October Sky

 
 • Proof and more!
Answers available for teachers and parents by request only.